Photography
Virtual Tours
Design
Pricing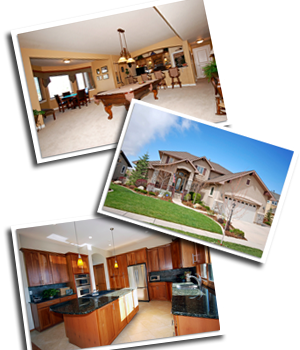 High Quality Photography at Affordable Prices
Americans, today, are expecting to see professional photos and virtual tours while shopping for their new home online. Having professional photos and allows you to make your new listings shine, and stand out from the rest of the competition, which will bring exposure not only to your listing, but will bring business to your door.
Photo Gallery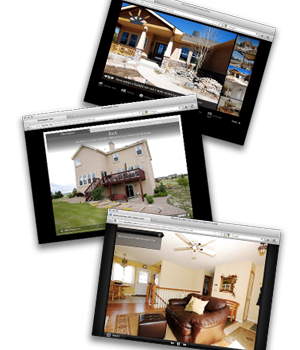 Put a Spotlight On Your Listing
Creating a virtual tour is the best way to showcase your new listing on the internet. We specialize in building a virtual tour to your specifications, and with explosive growth in internet related applications 85% of buyers turn to the internet first to view homes for sale before contacting a Realtor.
Virtual Tour Examples:
Distinctive Home Tours
Visual Tour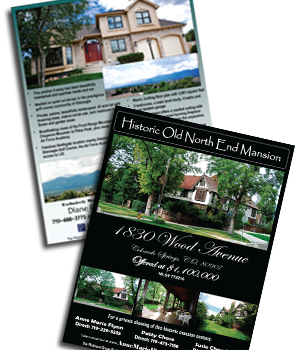 Beautiful Brochures, Stunning Design
Effective leave behind marketing strategy is still crucial in today's market; a simple brochure can make, or break an entire campaign. Elite Home Photography and Tours, offers a wide array of designs to choose from, or customize to your specification.
We also offer package deals; combining your photo and design costs. Printing also available. See the Pricing section for more details.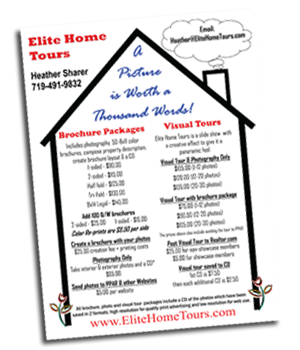 A Few Details
You will receive a CD of the photos; one set in high resolution for print advertising and the other set in low resolution for web advertising. The brochure will also be on the CD in a Publisher format so you can make changes to the brochure if you have the Publisher program and a PDF format to email out.
Turnaround time 48-72 hours.
Download Printable Pricing Information (PDF)